Occupational therapists are a crucial and effective component of the home health agency team working alongside physical therapists, speech therapists, nurses, home health aids, and social workers to provide strategies to help a patient manage daily activities while reducing their risk of injury or further decline in function. Preserving the ability to perform activities of daily living (ADLs) is fundamental for older adults to live an independent life. Becoming dependent on others to complete daily activities is associated with more doctor visits and longer hospitalization. Occupational therapists can support older adults' goals to age in place and live life as independently as possible by identifying and implementing effective interventions in the home.
Studies have shown there is a high benefit from receiving home visits or home based intervention for older adults with ADL difficulty (Liu, Chan, & Chang 2018). An ADL difficulty may arise when there is a mismatch between personal abilities and the home environment (Iwarsson, 2005). This mismatch in personal abilities can occur for example, from a catastrophic event like a fall resulting in a hip fracture or by normal progressive decline with age. An occupational therapist can find this mismatch between the client and their environment through completing a home assessment and interviewing the client on specific ADL tasks.
In the home, occupational therapists focus on many tasks including:
eating
dressing
bathing
toileting
functional transfers ie. on/off toilet and in/out of shower
sleeping
cooking
housekeeping
functional mobility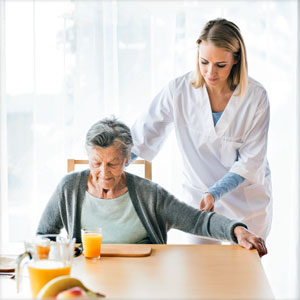 From there, an occupational therapist can provide recommendations and apply interventions that are client specific, which can increase their effectiveness. Occupational therapists will then implement various intervention strategies. One approach to intervention is the restorative approach, which aims to increase personal abilities through teaching a new skill/ability or restoring a skill/ability that has been impaired. A second approach is modification to the task and/or environment with education on adaptive equipment and/or environment modification i.e. grab bars in the bathroom, raised toilet seat, or shower chair to lower the activity demand, simplify the task, and increase energy conservation. Another approach is maintenance which supports the client to keep the performance skills they have regained to ensure they continue to meet their occupational needs ie through a home exercise program implementing physical exercise. Finally, the prevention approach is designed to eliminate barriers in performance either in the client, context, or activity i.e. education on fall prevention strategies in the home. An occupational therapist's main objective is to find the right fit between the patient's abilities, their goals and their home environment in order to manage living safely and independently at home.
For more occupational therapy tips, see the following:
There are over 600 occupational therapists in Tucson listed on LinkedIn. If you need occupational therapy in the greater Tucson area, give us a call.
---
References:
Iwarsson, S. (2005). A long-term perspective on person– environment fit and ADL dependence among older Swedish adults. Gerontologist, 45, 327–336. https://academic.oup.com/gerontologist/article/45/3/327/553157
Liu, C.-j., Chang, W.-P., & Chang, M. C. (2018). Occupational therapy interventions to improve activities of daily living for community-dwelling older adults: A systematic review. American Journal of Occupational Therapy, 72, 7204190060. https://doi.org/10.5014/ajot.2018.031252
Milla ́n-Calenti,J.C.,Tub ́ıo,J.,Pita-Ferna ́ndez,S.,Gonza ́lez- Abraldes, I., Lorenzo, T., Fernandez-Arruty, T.,& Maseda, A. (2010). Prevalence of functional disability in activities of daily living (ADL), instrumental activities of daily living (IADL) and associated factors, as predictors of morbidity and mortality. Archives of Ger- ontology and Geriatrics, 50, 306–310. https://www.sciencedirect.com/science/article/abs/pii/S0167494309001228?via%3Dihub
Home Exercise Program, created by Simone Allenbach, OTR Feb 9th, 2020. View videos at www.HEP.video
Dowel Exercises, Fairview Health Services, SMARTworks 476306 – REV 09/17 https://www.fairview.org/
Energy Conservation, St. Joseph's Healthcare Hamilton, https://www.stjoes.ca/
Fact Sheet: Occupational Therapy's Role with Fall Prevention. American Occupational Therapy Association. Originally revised by Pamela Toto, PhD, OTR/L, BCG, FAOTA. https://www.aota.org/
Tips for living life to its fullest: Fall Prevention for Older Adults. American Occupational Therapy Association, https://www.aota.org/