The holidays are about spending time with and appreciating those closest to you, but anyone caring for patients knows that the holidays can also come with their share of grief for patients and caregivers alike. Here are some strategies to help make it through the holidays yourself – while also lifting the spirits of patients and their families.
Keep Smiling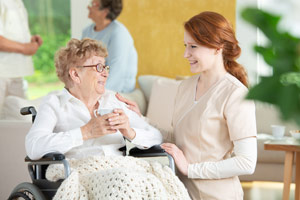 You likely have a lot on your mind, and on your plate, when the holidays roll around. But try your best to smile for your patients. Studies have suggested that, not only is smiling contagious, but it also might make you feel happier, lower your heart rate and help with stress. A smile could help you and your patients feel better, which is especially important for those who may not have anyone to spend the holidays with. What do you have to loose? Your smile might ward off the winter blues and restore the magic of the holidays.
Coordinate With Your Family and Plan Ahead
While helping your patients get ready to spend time with their families and friends, don't forget to make plans with those you hold dear. Talk with other members of your team, in advance, about covering for each other or switching shifts, should the need arise. Share your schedule with loved ones and ask them to keep you in mind when planning holiday meals and get-togethers. Shared calendar apps make it easy for people to know when you work without having to ask. Google Calendar is free. Other options include the Hub Family Organizer, Apple Calendar and the CareCalendar(.org) which describes itself as a "free website to organize meals and other help for families during a time of illness, recovery or a life changing event, such as the birth of a baby or death of a family member."
Be Considerate of Grieving Patients
Holidays can bring back memories of loved ones. Some patients, especially the elderly, may have lost their spouse or others close to them. As memories return, that loss can be acutely intense. If a patient expresses such grief, you might offer to light a candle, have a moment of silence or hold some type of brief ritual in the lost person's honor. Depending on your religious or spiritual beliefs, you could offer to pray with your patient (see celebration of life). If you don't know what to say, one of the best things you can do is simply listen. Some people may find comfort by reflecting on their past. They may enjoy telling stories so there is nothing that you need to do or say (just listen).
Reserve a Little Time for Yourself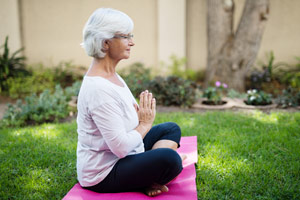 Self-care is essential around the holidays. You can easily burn yourself out, running around taking care of others, while trying to find time for your friends and family. To keep your productivity from slipping, remember to take some time for yourself and indulge in an activity that makes you happy. Give yourself time and space to simply breathe and collect your thoughts. Consider doing "mindfullness" exercises. Simply turn your attention to something pleasant in your environment, relax and breathe normally. For example, focus completely on drinking a cup of tea, taking in its taste, warmth, and scent – and when you drift off into other thoughts – gently return your focus to the taste and scent of your tea. Luckily for us here in Tucson, the weather in winter is mild enough to step outside and get a breath of fresh air. So plan ahead by choosing a quiet and comfortable place, inside or out, that you can retreat to whenever you have a break.
Considerations for Terminal Patients
Caregivers may struggle to figure out what to say and do around terminally ill patients. Sit down with patients and simply ask them what they'd like to do and what would make them happy. Ask if there are any specific family members or friends they'd like to have come visit them. Depending on your role and relationship to the patient, if appropriate, you could reach out to their closest family and friends to arrange a surprise visit. Just double-check to ensure the person or persons are still on good terms with your patient to avoid a holiday blunder that could result in an argument or bad blood.
Eat Well
The holidays are also a time of enjoying treats and deviating from your normal eating habits. Nurses and caregivers are on their feet and on the go, which may not leave enough time to eat a healthy meal. Do your body a favor and incorporate some healthy foods or at least some healthy snacks (think vegetable snack packs, hummus, almond butter and fruit). Not only does this help keep off the holiday pounds and aid digestion, but proper nutrition gives you the energy you need to be there for your patients and boost your mood. Plus, you won't feel so guilty about going back for seconds or eating dessert with those holiday meals.
Get Ahead of Depression
Some of your patients may have family and friends who are either out of state or are unable to visit them. Rather than wait to see if your patients grow sad or depressed because of this absence, get ahead of the dark emotional clouds and watch for mood changes. Ask about their circumstances, show an interest in their life and background, and maybe even share holiday stories. Maybe you can act as their stand-in family or friend and bring some holiday joy into their life.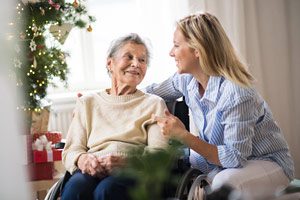 On the flip-side, maybe it's you who feels depressed, especially if you're unable to spend much time with your own family or friends for the holidays. During your lunch hour or during breaks, you can catch up with your loved ones via social media, when you're not able to attend the holiday festivities in person. Also, take out time every day to do something that brings you joy. Take a walk outside in nature, listen to a favorite song, savor a cup of tea (see mindfulness), watch a favorite TV show (preferably a comedy), reach out to an old friend, spend quality time with a beloved pet, exercise or get a massage. Perhaps, after the holidays wind down, you can plan some post-holiday visits and enjoy leftovers from the holiday feasts that you missed.
Caregivers give all throughout the year. That being said, the holidays are a time for giving, so plan ahead and be extra kind your patients and yourself!