Physical therapy for seniors may seem similar to more common sports physical therapy, or accident physical therapy, but due to age and circumstances, there can be stark differences. For example, some medical professionals believe that a majority of people at age 65 may have some arthritis in their spines. However, everyone's body, no matter where they come from, has musculature as varied as their personality. Physical therapy can have an important role in health care outcomes and is connected with maximizing function, preventing decline, decreasing pain and increasing overall mobility.
For seniors who have decreased physical ability, there are different paths in health care that may help in the overall recuperation process. Illnesses such as stroke, heart attack or even fractures to bones, can decrease your overall chance of mobility. Chronic pain, from conditions such as arthritis, is one of the main detractors from the ability to walk and function independently.
Types of Senior Physical Therapy
Cold Therapy – this involves using ice packs to reduce pain and swelling
Heat Therapy – involves using heat to loosen muscles and improve joint circulation
Manual Therapy – involves using the hands of a therapist to work muscles
Hydrotherapy– uses water to relaxes muscles, treat disease and help muscle growth
Strength Therapy – the use of weights or bands to create resistance and help coordination and strength
Occupational therapy sometimes gets confused with physical therapy because it is similar. But it has a specific focus, which is to improve a patient's ability to perform activities of daily living (ADL), or in other words, help the patient regain the ability to perform day-to-day tasks on their own.
DIY tip: If you suffer from age-related conditions such as arthritis, diabetes, osteoporosis, high blood pressure or damaged joints, you may avoid regular exercise. Water aerobics allows you to exercise in a low-impact format that reduces stress placed on joints and bones. The buoyancy gained in the water allows you freedom of movement and improves your balance when you participate in water aerobics on a frequent basis. Check with your doctor before beginning any exercise program.

Read more at: healthyliving.azcentral.com
Benefits of Physical Therapy for Seniors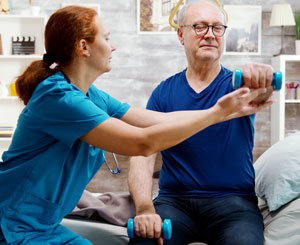 Physical therapists have a wide variety of tools and treatments at their disposal. They may prescribe exercise for specific parts of the body. They may take more of a hands on approach with manual therapy. Often, therapists and doctors recommend a combination of physical therapy treatments, which work different parts of the body and compliment one another.
Whatever the condition of the patient, rest assured, a physical therapy regime will not only increase mobility, strength, dexterity and circulation — but also the patients overall well-being.